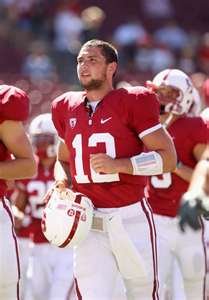 Andrew Luck, QB, Stanford
.
Who needs whom? (What does each NFL team need the most; looking at the upcoming draft)
So the big question is: should the Miami Dolphins really "Suck for Luck"? And even if they should, who should all of the other teams be "sucking for" in order to obtain their services? At mid-season, it is a good time to take a look across the NFL and see what teams deficiencies are and who coming up in the April draft might be able to shore up those problems.

AFC EAST

MIAMI DOLPHINS
No doubt about it. This team has been needing a legitimate starting quarterback since January 2000, which would turn out to be the last time Marino would play a game for them (or anyone else.) The team could use an offensive lineman and while Rookie running back Daniel Thomas has yet to prove himself, he's not dazzling anyone either. However, for this team to contend with Luck or anyone else, they will need a coaching staff who actually knows what the hell they are doing.

BUFFALO BILLS
This team has an offense good enough to take on anybody in the league, including Green Bay ... yes I did say it. But their problems run far and wide on defense. They have been incredibly opportunistic and enjoy a wide positive turn over margin for the first nine weeks of the 2011 campaign, but no defense can sustain such a pace, gathering in two to three takeaways over their own offenses giveaways, every single Sunday while sporting less than average stats in all other areas (yds allowed, points allowed, sacks, etc.) The team could probably use either a hit in the draft or a quality free agent at all three layers of the defense: line, linebackers, and secondary to become a serious threat in the playoffs.

NEW YORK JETS
This team for now has decided to live or die on the arm of Mark Sanchez, but that's not the worst bet in the NFL these days. This team is too good to roll the dice on draft day, they should stick to plugging in that one or two free agent defensive linemen they need to stop the opponent's running game and maybe draft a running back since there is no way of knowing how long they can rely on Tomlinson although he has been an outstanding free agent acquisition thus far. On offense, it's hard to find a rough spot as long as Sanchez plays within his limits and continues to improve.

NEW ENGLAND PATRIOTS
Why can't this team pass to the backs out of the back field? Do they have brick hands ... Mr. Green-Ellis? Otherwise this is a championship caliber offense due to Brady alone. But their atrocious defensive troubles have been compounding year after year and now they have caught up to them. They have reached the point where their highly Brady dependent offense simply can't outscore the opposition at will any more. New England should be looking for D-line, linebacker and secondary help from both the draft and free agency.

AFC SOUTH
INDIANAPOLIS COLTS
Wow. What a mess. But, it's hard to judge this team with Peyton Manning on the sideline and Curtis Painter on the field. This is literally swapping the best QB in the NFL for the worst. When the offense is so awful it tends to drag the defense down with it within the dynamic of an NFL game. I suspect the team would be far more competitive and have wins with ANY OTHER QB in the league behind center rather than Painter which then begs the question ... why is he wasting an NFL roster spot and stealing the Colt's money every payday? Perhaps they do want Luck after all. But on a serious note, Joseph Addai is getting injured a lot and they could use another quality running back to split the load. On defense they could probably use help at all three levels of the D.

JACKSONVILLE JAGUARS
Its entirely unfair to blame Coach Del Rio for this team's woes which have been mainly at QB forever. And Rookie QB Blaine Gabbert has been thrown into the lion's den as well. The team has a decent defense so the trouble must be coming from the Gabbert's raw "greenness" and possibly the O-line.

TENNESSEE TITANS
Chris Johnson has magically disappeared. And Hasselbeck is not the answer. This team has a reasonable defense that is being bogged down by a bad offense. Coach Fisher is one of the best in the business so we can't blame him for not being able to use his talent, we have to say that he has no talent on the field. Tennessee could use another running back to share the load with Johnson and that might be the trick that fixes the trouble, but I think their primary need is for a quarterback.

HOUSTON TEXANS
This team, if it weren't for the Indianapolis Peyton Mannings - er, Colts, should be a threat to get to the AFC Championship every single year. They have one of the best defenses n the NFL, arguably the best running back in the NFL, the best wide receiver in the NFL, and an above average QB. So why is this team constantly struggling? 1) Their only chance into the playoffs until this year has been through the wild card because of Peyton Manning, and 2) Andre Johnson (said best wide receiver) is getting on in years and becoming injury prone (and has missed 5 weeks this season already.) Therefore this team needs exactly two things: 1) Get out of Peyton Manning's division (OK, a little humor ... very little) and 2) Get another legitimate wide receiver. Why is this team passing up Moss last year and Owens this year? I am not suggesting they sign these guys for a decade with a 100M signing bonus. Oh and by the way, Kubiak and his staff are tied for dead last as the worst coaching staff in the NFL because this team is good enough to go deep into the playoffs and has been for a while and should be for a couple more years ... yet ... they always fall short of expectations. That would be the coach who calls a conservative game when he should be going all out and calls an all out game when he should be conservative ... the only staff worse right now is in Miami.

AFC NORTH
CLEVELAND BROWNS
This team has a respectable defense, a very good running back, etc. So the question marks are at O-line and QB. The experiment with Colt McCoy is ongoing one would suspect, so this team needs depth at running back and wide receiver although in fairness they are suffering a lot of injuries this season.

CINCINNATI BENGALS
Red Dalton (QB) and A.J. Green (WR) are pure gold paydirt. The team has a very good defense. Give Dalton a strong running game and another deep threat opposite Green and Dalton should survive his Sophomore blues season next year.

PITTSBURGH STEELERS
There are no glaring weaknesses on this team other than that Roethlisburger has started every season for the past several including the 2011 campaign looking abysmal. But as the season progresses, so does he and the team bulls themselves into the post season as legitimate contenders. All the Steelers need is to patiently build quality depth especially on defense and find a true top notch running back.

BALTIMORE RAVENS
The clock is about to strike midnight and that gray bearded defense will retire. For Baltimore it is now - RIGHT NOW - or never. They have the best defense in the league right now, and gave up Flacco's two favorite check down weapons during this past off season in order to do what exactly? Save a few dollars while the frachise hangs on the thinnest threads of Ed Reed and Ray Lewis' ancient knees? Baltimore needs to start thinking about how to replace that defense right now.

AFC WEST
KANSAS CITY CHIEFS
Cassel is not the worst QB in the league. And he has some good weapons. KC has a decent running attack and so all of their troubles are on defense where they are basically pitiful. They'll need help through the three layers of the D. And they'll need it fast.

OAKLAND RAIDERS
Mortgaged the farm on Carson Palmer. "A" for effort. "F" for choice in quarterback and price paid ... TWO #1's and TWO #2's for a QB I wouldn't trade an office plant to get? Well they are thoroughly stuck with Mr. INT now and they will bitterly learn that Jason Campbell is the best QB on their team. This is a bit of a crazy - definitely Al Davis - kind of team with individual superstars at running back, wide out, kick return positions and so on. They could always use help on defense ... anywhere, but they may not be able to get it for a while due to the Palmer deal.

SAN DIEGO CHARGERS
All this team needs is a good GM and coach.

DENVER BRONCOS
Ditto. But the trouble runs deeper. Denver may have to gut the entire organization and start again with a new President and CEO of football operations because players are demanding to be traded off of this team like rats bailing from a sinking ship. There is something seriously wrong with the administration of this team and it looks like the owner is going to have to do something and do it sooner than later or this team will join the Dolphins as one of the worst managed organizations of the 21st century.